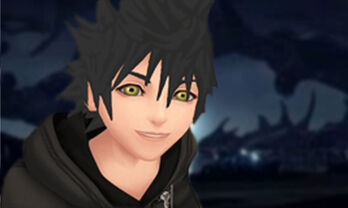 Dark Roxas, Is the manifestation of the darkness within Roxas. It occured when Roxas gave all his light to Vanitas, and Vanitas gave him back some of his darkness. Dark Roxas is Sadistic, and Evil, he will attack without hesitation, unlike the normal Roxas who posessed many qaulities of Sora. Dark Roxas only seems to care about Vanitas. Dark Roxas' form generally lasts about 15 minutes at most after which Roxas will wake and can't remember what was happened.
Quotes From Dark Roxas:
"I'm very annoyed at the lack of staff at the ice cream shop. WHERES MY CYANIDE FLAVOURED ICE CREAM WHEN I NEED ONE?"
"N-NO MUST CONTINUE BEING EVIL!!! GAH!!"
"YOU'RE ALL LOSERS WHO FILL YOUR HEADS WITH STUPID LIGHT!! IM FADING SO GOODBYE!!"