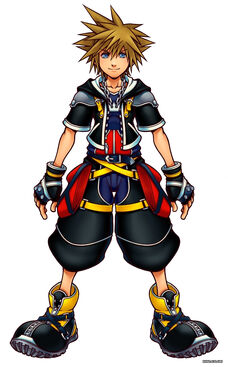 Kingdom Hearts 3 is the third main instalment of the Kingdom Hearts crossover series which sees the original central characters Sora Wielder of the Keyblade, Donald Duck, Goofy, Roxas, Riku and Kairi

It Features the introduction of a new RPG playing system, an interactive multiplayer, brawl and characters from previously unfeatured Walt Disney Animation Theatrical Features.
It was distributed by Square Cnix and 2K and released on May 11th 2010.
It Features the voice talents of Haley Joel Osment, Jesse McCartney, David Boreanaz, Hayden Panettiere, Michelle Galdenzi and Logan Lerhman.
Plot-A Twist In Time
Edit
Kingdom Hearts 3 follows the events of the second and first Kingdoms as King Mickey with the recruited Sora and Roxas of the Keyblade are challenged with confronting the last of the surviving Heartless and discovering the puppeteer.
But during what the witches of Hades refer to as the Twist Of Time does a new keyblade wielder appear a troubled boy named after the Ancient God Odin who was the master of the wizard and former master of King Mickey Yen Sid.
The Heartless endlessly pursue the bespactled boy in home of acquiring him and the third Keyblade.
Soon Odin joins the forces with the most unlikely of heroes and learns of a world beyond his own as well as the other wielders of the infamous keyblades learn of A Twist In Time.
Characters
Edit
Sora
Roxas
Kairi
Riku
Leon
Tuffie
Abraxis
Mortimer
Odin
Donald Duck
Goofy
King Mickey
Queen Minnie
Winnie the Pooh
Tigger
Piglet
Rabbit
Christopher Robin
Pinocchio
Mister Geppetto
Figaro
Cleo
Stromboli
The Blue Fairy
Monstro
Jiminy Cricket
Dumbo
Timothy Q.Mouse
Mrs. Jumbo
Ringmaster
Cattt
Giddy
Prissy
Bambi
Thumper
Owl
Faline
Great Prince
Mrs. Rabbit
Ronno
Hunting Dogs
J. Thaddeus Toad
Cyril Proudbottom
Moley
MacBadger
Ratty
Weasel
Winkie
Headless Horseman
Ichabod Crane
Darling
Si
Am
Peg
Lady
Tramp
Jock
Joe
Bulldog
Dachsie
Trusty
Beaver
Aunt Sarah
Boris
Al
Tony
Toughy
Pedro
Jim Dear
Dogcatcher
Pongo
Perdita
Cruella De Vil
Roger
Anita
Patch
Penny
Lucky
Arthur
Merlin
Archimedes
Sir Ector
Sir Kay
Madam Mim
Sir Pellinore
Black Bart
Tom O Malley
Duchess
Edgar
Toulouse
Marie
Berlioz
Roquefort
Scat Cat
Shun Gon
Hit Cat
Peppo
Billy Boss
Napoleon
Lafayette
Madam Adelaide
Abigail
Little John
Friar Tuck
Prince John
King Richard
Sir Hiss
Robin Hood
Maid Marian
Nutsy
Trigger
Otto
Bernard
Bianca
Madame Medusa
Penny (The Rescuers)
Mr.Snoops
Orville
Rufus
Ellie Mae
Luke
Digger
Cody
Percival C. Mcleach
Jake
Basil
Dawson
Olivia
Mr. Flaversham
Professor Ratigan
Fidget
Mowgli
Shanti
Bagheera
Shere Khan
Taran
Hen Wen
Victor, Hugo, and Laverne
Community content is available under
CC-BY-SA
unless otherwise noted.