Nobodies are whats left behind after a person looses there Hearts to Darkness.
They are essentially the Body and Soul of a former person.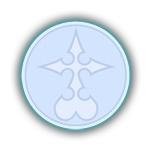 Origin
[
]
The Nobodies were probably in existance an incredibly short amount of, if not the exact time that the Heartless came into existance. It is not known, however, when, as they had stayed in the Realm of Between for most of existance, until Organization XIII came to power.
A group of powerful Nobodies who rettained humanoid form.
Follow link.
Types
[
]
There are actually very few types of Nobodies.
Creeper
Dusk
Sorcerer
Sniper
Dragoon
Berserker
Assassin
Dancers
Gamblers
Samurai
Homeworld
[
]
The Nobodies, as well as Organization XIII make there home in The World that Never Was, a world of Between.
They also had a fortess called Castle Oblivion.